10 best performers at the World Cup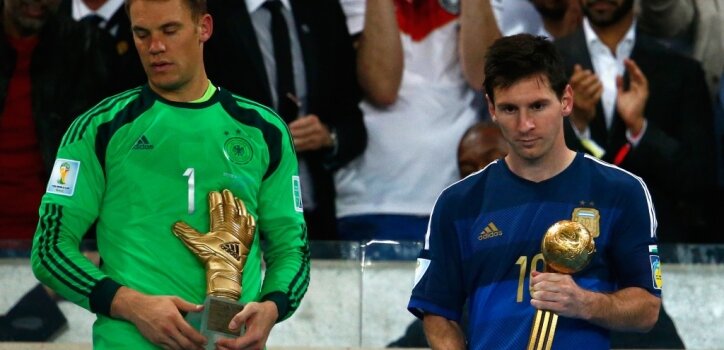 The World cup is over, Germany are the new champions of the world and few can argue that they don't deserve it after an impressive campaign. Here are the 10 best performers from the World Cup.
Although he was ruled out for the Semi Final against Germany after a heavy collision with Zuniga during the Colombia game. He had every right to go for the ball but his knee slammed into Neymar's lower back ruling him out of the Germany game. Putting his injury aside I thought he had a very good World Cup and essentially carried Brazil through the tournament. You could see the angiush in Neymar's eyes when he was interviewed after Brazil's exit.
He won the game single handily against Croatia with his 2 goals in the 3-1 win and followed that up with a man of the match performance against Cameroon. He didn't score again in the competition but his influence was always crucial and having him on the pitch meant Brazil looked like far more of a threat then without him.
Holland's demolition job against Spain on the second day of the world cup remains 1 of the iconic moments of this World Cup. Van Persie started the scoring with a header that showed excellent execution. Daley Blind played a rangy 50 yard pass and Van Persie brilliantly timed his run and jump to flick the ball into the top corner from a diving header. His technique was superb and he made an almost impossible skill look very easy.
He added another very well taken goal against Spain before adding another against Australia in the 3-2 win over them. His goals dried up after that but his link up play with Robben and Sneijder was expert and the 3 experienced players in the squad certainly lived up to billing. He did add another goal to his World Cup tally in the 3-0 win over Brazil in the 3rd place play off.
Germany's captain was deployed as a DMC or as a right back this World Cup and that shows how versatile of a player he is. Very few players in the World could be moved from Right back to DMC but Lahm looks like he has been playing in that position for years. A move taken by Pep Guardiola, who moved the German to DMC for Bayern Munich with great success, Joachim Low followed suit and it paid dividends.
He played right back in the final but he is so comfortable on the ball and his reading of the game is second to none. He made Marcelo look like a schoolboy in the 7-1 Semi-final win and his influence in the team is paramount. At the age of 30 this is likely to be Lahm's last World Cup and a player of his quality definitely earnt the right to lift the coveted World Cup trophy.
A small ray of light in what was a terrible campaign for the hosts Brazil. He was suspended for the embarrassment against Germany and many say that it would not have been such a high scoring game had the PSG man been at centre half. He is Brazil's captain and when on the pitch he organised Dani Alves, Luiz and Marcelo like an army regiment. As soon as he stepped out of the team everything fell to pieces.
He is considered the best centre back in the World and his influence in the Brazil team is very clear, maybe to the point where they have an over reliance on him. His World Cup also ended badly when he brought down Arjen Robben in the dead rubber 3rd place play off and was very lucky not to be sent off for being the last man.
Back in his favoured position of DMC, at Barcelona he is deployed as a centre back rather than in midfield. Mascherano was a real stalwart for Argentina and made them into a very good defensive unit. He reads the danger far quicker than anyone else on the field and was 1 of the main reasons Argentina ran Germany so close in the final.
He made the tackle of the World Cup against Holland in the 91st minute when Arjen Robben was sent clear. He actually said in an interview he tore his anus making the match saving tackle, he said the pain was unbearable, I'm not surprised! Barcelona must look at this World Cup and assess whether they continue to play him at centre back or move him into his favoured midfield role.
Although I don't agree with Robben's diving antics throughout the World cup which he astonishingly admitted to doing after the Mexico game, he had a brilliant World Cup and remains a real World beater. He did have the big chance to win the game against Argentina but it was still a hard chance. His pace when he has the ball is incredible and he made Pique and Ramos look like complete mugs in the opening game.
His jinking and turning is his other main skill and in every game he posed a real threat to defenders with his link up play with RVP and Sneijder. This is likely to be his last World Cup and 3rd place will be seen as a successful campaign for the Dutch who were expected to struggle to qualify out of their group containing Spain and dark horses Chile.
His compatriot Miroslav Klose broke the record for most goals at the World cup on 16 which is a fantastic achievement but how long this record will last is another story with Muller around. Only 24 years of age, Muller already has 10 World Cup goals and has at least 2 World Cups in his prime. Not always the most attractive player to watch, he is so efficient and effective for Germany.
His stats are fairly impressive but he has always been a player for the big occasion for Germany and his club Bayern Munich, scoring a lot of his goals at Finals or in finals for his club. His best goal this tournament came against the USA when a corner was cleared and he expertly side footed the ball first time into the corner.
Messi ended up winning the Golden Ball for the tournament, meaning he was considered the best player by FIFA. Whether or not I agree with this I thought Messi stepped up to the plate under pressure other than the final where he had a golden opportunity to give Argentina the lead in the second half. His night was summed up by a free kick in the 119th minute which he tamely sent over the bar just before the end.
Putting the final aside though I thought he had a great tournament. Two trademark goals against Iran and Bosnia, he carried the Argentine goal scoring threat as Higuaín, Lavezzi and Ageuro only managed 2 goals between them. It was a heart breaker for Messi when Gotze scored as most Argentinian fans and players must of thought penalties was on the cards.
The 28 year old once again proved he is the best goalkeeper in the World and could quite possibly be 1 of the best ever. His ability to read the game and run out and clear danger is unique, and very few goalkeepers even attempt to do the things he does. Any ball over the top, could be 40/30/20 yards from goal Nueur comes running out to clear the danger.
I only saw him misjudge 1 of about 20 this entire tournament and even then he still managed to tackle the striker once he tried to go round him. He was commanding in the final and snuffed out any problems for the German back line notably in the last minute when he flung himself into the air to claim a cross from Messi in the dying embers of the game.
The biggest shock of the tournament was the performances of the Colombian. He was a 100/1 shot to be the top scorer at the World Cup and he ended the campaign on 6 goals in 5 matches. Colombia were very unlucky not to beat Brazil and Rodriguez was fantastic in that match even though he was fouled over 10 times by the bullish Brazilian midfield. Coming into the World Cup no one would have expected James to win the top scorer award.
It would have been great to see how he would have got on against the Germans and it will also be interesting to see if Rodriguez moves on this summer after a stunning World Cup. Porto sold him for £38,000,000 to Monaco two seasons ago so if someone does want to snap him up it will come at a very hefty transfer fee.