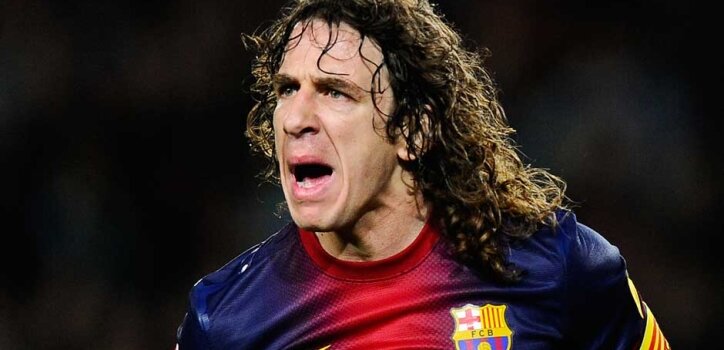 It is a rarity to see a player stay at a club for their whole career in this day and age, but when they do they tend to boast incredible statistics and records if they have made it into the European elite and adapted their game throughout their careers. Here are 10 'One Club Men' with some fantastic trophy cabinets and individual awards.
10
Rogério Ceni – Sao Paulo (1152 appearances)
Ceni is the most capped player for any team in history. 1152 appearances is astonishing and he did this over a period of 2 decades. He has won 17 major titles with the Brazilian giants and was capped for his country 33 times between 1997-2006. What makes Ceni unique, is that he is the penalty and free kick taker for Sao Paulo and has scored over 100 goals for them.
It is quite incredible that a goalkeeper could score over 100 goals for his club but Ceni has been doing it for years making set pieces look ridiculously easy. A video above will highlight how good the Brazilian keeper is at set pieces. On 20 April 2014, in a 3–0 home win against Botafogo, Ceni had three record recognized by Guinness World Records: football player who most often played as captain of his team, record of goals for a goalkeeper and record for number of games for the same club
9
Tony Adams – Arsenal (672 appearances)
'Mr Arsenal' as he was fondly known, considered 1 of the greatest English centre backs of all time and boasted an impressive trophy return while at Arsenal, notably scoring the final goal against Everton to seal the Championship in 1998. His statue was unveiled at the Emirates in December 2011, alongside Herbert Chapman and Thierry Henry, not bad company eh!
He played over 25 league games in 14 of his 18 seasons at Arsenal and was made captain in January 1988 at the tender age of 21. He battled alcoholism while he was at Arsenal and came through his troubles with flying colours. His honours include 4 top flight division titles, 3 FA Cups, 2 Football League Cups, a UEFA Cup Winners' Cup, and 3 FA Community Shields.
8
Francesco Totti – Roma (707 appearances)
290 goals and 181 assists, means Totti contributed something in every other game in 21 years, an incredible statistic. Totti has spent his entire career at Roma, is the number-one goalscorer and the most capped player in the club's history. He is considered to be one of the greatest players of his generation, and also as Roma's greatest player ever.
He has won the Oscar Del Calcio a record 11 times, 5 Italian footballer of the year awards and 2 Serie A footballer of the year awards. A 2006 World Cup winner and Euro 2000 finalist, Totti was selected in the All-Star team for both tournaments. The press refer to him as Il Gladiatore (The Gladiator), Er Pupone (The Big Baby), Il Re di Roma (The King of Rome) and Il Bimbo d'Oro (The Golden Boy). He is the current active top scorer in Serie A with 235 goals.
7
Jamie Carragher - Liverpool (737 appearances)
Liverpool's vice-captain for 10 years, and is the club's second-longest ever serving player, making his 737th appearance for Liverpool in all competitions on 19 May 2013. He was initially a right back but Rafael Benitez converted him to centre back in 2004 where he flourished. 2 FA cups, 2 community shields, 1 Champions League trophy, the incredible night in Istanbul, 1 UEFA Cup and 2 Super Cups.
Another player who's international career was far too short. Only 38 caps, he represented England at the 2004 European Championship and the 2006 FIFA World Cup, before announcing his retirement from international football in 2007. He did, however, temporarily come out of retirement in order to represent England at the 2010 FIFA World Cup, before retiring again with 38 senior England caps.
6
Paul Scholes – Man Utd (718 appearances)
Considered the best long passer ever to grace the game. Zidane famously said to a journalist when asked what it was like to be the best player in the world 'Ask Paul Scholes'. Another man with a fantastic CV boasting Treble-winning success in the 1998–99 season, 11 Premier League, 3 FA Cup and 2 UEFA Champions League winners medals. 66 caps for England is fairly low and he retired to concentrate on United in 2004.
He has recently been snapped up by BT sport to be a pundit for the new season, he is known to be a shy man and rumour has it after the treble winning success all the players went out while Scholes went to his parents' house to play FIFA. He retired in 2011, then reversed his decision in January 2012 and played a crucial role in Man Utd's dominant 2012/13 season.
5
Carlos Puyol – Barcelona (682 appearances)
Everybody knows Carlos Puyol for his shaggy hair and aggressive style of play; he has been 1 of the best centre backs in Europe and was evidently missed by Spain at the World Cup in Brazil. He is a born leader and been a rock at the back for Barcelona for 16 years. He rose through the ranks at Barcelona B and C level and is also 1 of the few Spaniards to be capped 100 times.
He was captained at Barcelona from August 2004 right upto the end of last season. He has won 21 major titles with Barcelona, including 6 La Liga titles and 3 UEFA Champions League medals. He was also part of the Spanish sides that dominated Euro 2008 and the World Cup in 2010. He was in UEFA team of the year 6 times and the UEFA club best defender in 2006.
4
John Terry – Chelsea (627 appearances)
Tony Adams is considered 1 of the greats but John Terry runs him very close, as a duo they would have been unbeatable. Captain, Leader, Legend as he is known by the Chelsea fans. They have great fondness for the sometimes controversial Terry due to his loyalty and commitment to Chelsea. Terry was named UEFA Club Defender of the Year in 2005, 2008 and 2009, PFA Players' Player of the Year in 2005, and was included in the FIFPro World XI for five consecutive seasons, from 2005 to 2009.
As well as individual awards he has led his team to 3 Premier League trophies, 4 FA Cups, 2 Carling Cups and that all elusive Champions League trophy in 2012. That would have been his sweetest moment after the infamous slip in the 2008 final against Man Utd. He was the first captain to lift a trophy at the New Wembley in 2007 and the first player to score there against Brazil in a friendly. Terry is still very much part of the 1st team at Chelsea and looks better than ever.
3
Paolo Maldini – Milan (902 appearances)
He operated anywhere across the back four and had great ability with his left or right foot. He spent all 25 seasons of his career at Milan before retiring at the age of 41 as a legend and icon at Milan. During that period, he won 26 trophies with Milan: the Champions League five times, as well as seven Serie A titles, one Coppa Italia, five Supercoppe Italiane, five European Super Cups, two Intercontinental Cups, and one FIFA Club World Cup
He played for 14 years for the Italian national team, making his debut in 1988 before retiring in 2002 with 126 caps, a record which was only bettered by Cannavaro in 2009, and Buffon in 2013. Maldini captained Italy for 8 years, and held the record for appearances made as Italy's captain, wearing the armband 74 times, until he was once again overtaken by Cannavaro, in 2010. He came runner up to team mate George Weah for World Player of the year in 1995 and was also placed 3rd twice for the Ballon D'or.
2
Steven Gerrard – Liverpool (669 appearances)
Recently announced his retirement from International duty after 114 caps for England. He was always a solid performer and scored some cracking goals in big tournaments for his country. He always had a slight issue playing with Frank Lampard though which dampened a lot of England's potential success. Even now Gerrard is still performing and he nearly led Liverpool to a spectacular Premier League win.
Gerrard was honoured as the UEFA Club Footballer of the Year and won the Ballon d'Or Bronze Award. He has also been named in the PFA Team of the Year a record eight times, the UEFA Team of the Year and FIFA World XI three times, and was named PFA Players' Player of the Year in 2006 and the FWA Footballer of the Year in 2009. He is, to date, the only footballer ever to have scored a goal in an FA Cup Final, a League Cup Final, a UEFA Cup Final and a Champions League Final
1
Ryan Giggs – Man Utd (963 appearances)
The ultimate 1 club man. Many say that part of the reason for his success was because he had no commitment to international football so he could fully focus on his club. He played every single Premier League season and scored in every 1 apart from last season when he announced his retirement. Giggs is the most decorated player in English football history. He also holds the club record for competitive appearances. During his time at United, he won 13 Premier League winner's medals, four FA Cup winner's medals, three League Cup winner's medals and two Champions League winner's medals. He has two runner-up medals from the Champions League, three FA Cup finals and two League Cup finals, as well as being part of the team five times when it finished second in the Premier League.
Giggs' personal achievements are also impressive. He was the first player in history to win two consecutive PFA Young Player of the Year awards (1992 and 1993), though he did not win the PFA Player of the Year award until 2009.