Top 10 Worst Footballers Ponytails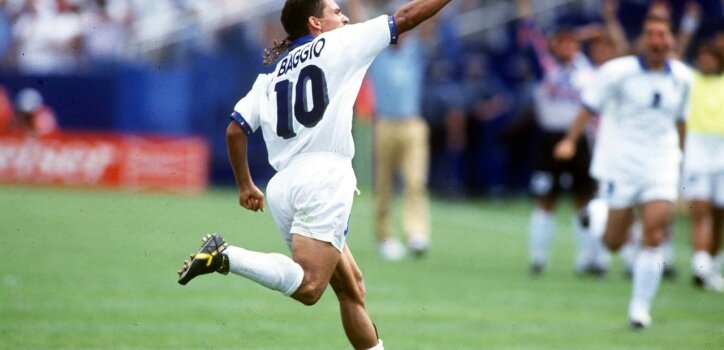 Not known as Il Divin' Codino (the Divine Ponytail) for nothing. Like Didier Drogba, Roberto is far too good looking and far too good a player to have needed to bother with the embellishment of said ponytail. Despite missing that final penalty against Brazil in the 1994 World Cup Final, he does hold the record for the only Italian player to have scored goals in three World Cups 1990, 1994 and 1998 and is considered to be one of the greatest players of all time. Shame about the hair, whether it was in full mane girly ponytail mode or thin wispy rat tail mode.
9
David Beckham – of course!
Arguably one of our greatest players of all time, not just because of his footballing skills but also for his inspirational qualities. A gifted midfield player, he was also a dead ball specialist, who conjured up many a victory from the jaws of defeat. He was a talisman who oppositions feared. Fair to say that he was never far away from controversy, but he did enhance the profile of football throughout the world, combining it with charity and youth outreach work. An Essex lad who became a global phenomenon. But oh, the obsession with his hair! He has tried everything from the shaved head, right through the Mohican, to the dreaded ponytail! Fortunately he has the chiseled good looks to survive these various crimes against the hairdressing profession.
Savage by name and savage by nature, this rangy, slightly built, blonde Welshman was like a Jack Russell Terrier on the field i.e. once he sunk his teeth in to you, nothing would make him let go. He was definitely an acquired taste and probably one you only acquired if he played for your team, which I did, when he played for my beloved Leicester City. However not a great role model for the young, when he finished his playing career, he had amassed the most yellow cards of any player; although he has since been surpassed by Lee Bowyer. But his biggest crime for me was that ponytail. The only thing to be said in its favour, is that it kept his split ends under control. He has subsequently become a media pundit – an odd choice given his reputation, but it has to be said, that he sparks lively debate.
According to Monsieur Petit's wikipedia page, he shaved his hair off for charity in 2011 raising £34,000 in the process, so I feel a bit mean including him in my ponytail horror list. But he is there because I watched him at Arsenal for many years, dragging his mane of hair around the pitch behind him, looking more like a 'my little pony' than a highly honed athlete. That said he was a very fine defensive midfielder, who formed a double winning partnership with the mighty Patrick Viera.
A little known fact but one I have on VERY good authority, is that he, and I quote, 'NEVER wore underpants', preferring to go commando at all times. Perish the thought!
Zlatan has played for some pretty beefy teams in his career, Ajax, Juve, both Milan teams, Barcelona and currently PSG. He is the only player to have scored for six different teams in the Champions League. No stranger to the odd controversy including picking fights with his own team mates, he is a veritable goal machine, scoring some amazing ones, whether they are long range bullet shots, cheeky heel flicks or his now famous back to goal bicycle kicks. One such was the Puskas Goal of the Year Award winning bicycle kick goal against England, his fourth for Sweden in their 4 – 2 victory over us. As he ran away from goal he pulled his shirt off to reveal a finely honed athletic torso. If only he spent so much time finely honing his barnet!
A former bad boy, this striker from Gateshead has had his fair share of infamy. Now residing in London and playing for West Ham he is also known for having been the most expensive English footballer to have moved between two English clubs when Liverpool signed him from Newcastle for a record breaking £35,000,000 in 2011. Considered to be a classic centre forward, due to his size, strength, excellent shot and his outstanding heading ability – Kevin Keegan said he is 'probably in the top three headers of a ball I have ever seen in football.' I wonder if he got hairdressing advice from Kevin too, remember that perm in the 70's? Can't think what else would persuade him to adorn his bonce with that ponytail?
A wonderfully gifted player with all the Brazillian flair that you would expect. This combined, with a cheeky smile and a look of a mate you would want to go for a drink with; he certainly looks like a chap who likes a laugh. He must have liked a laugh given his ponytail. Dear oh, dear oh dear! The words multiple rats tails spring to mind. That said it looked better in a ponytail than when left flying wild! Cornrows are the way forward for this footballing machine!
Don't get me started on this man! By rights he should be at the number one spot for his ridiculous hair arrangement but has been edged out by two worthier contenders. I won't comment on his footballing efforts here for fear of litigation, but I will comment on his new 2014 look. To be fair he is actually quite a nice looking man, but the arrival of not only a full beard but also his ludicrous top-knot, has made him look like some sort of medieval throw back from Norse mythology. A sort of marauding, raiding Danish Viking, but without the marauding! If only he were capable of a bit more raiding, especially in the box and the plundering of a few more goals!!
Like Nicholas above, Mr West should really take the top slot, but that is reserved for a very personal favourite. But Mr West has trounced his rivals with a hairstyle that is off the scale! He has employed bright colours, elementary school girl bunches, elastic bands, plaiting and cornrows. In other words, he's covered all bases but never achieving anything other than looking pretty silly! Oh sorry, he did achieve winning an Olympic gold medal with Nigeria at the 1996 Atlanta Olympics.
and he was a pretty awesome defender.
Oh David, how we loved to watch your acrobatic performances for both club and country. You were a massive hero of ours, as you hurled yourself athletically between the goal posts. You were the original gentle giant, who took time to answer your fan mail. My son's personally signed photograph from you adorned his bedroom wall for many years. We even forgave your occasional goalkeeping blunders. Nayim's wonder goal in the dying minutes of the UEFA Cup Winners' Cup final and the infamous Ronaldinho goal in the 2002 World Cup, was it a cross or was it a pass? But the one thing we can't forgive you for David, was that ponytail. Ironically, when that goal was scored, David had the ponytail and Ronaldinho didn't! You have a marvelous head of hair and you are a pleasant looking chap, but oh that ponytail, it did NOTHING for you. So for the following reason, the fact that we had to endure years of sitting behind you at Highbury and watch said ponytail swishing around the Arsenal goal, you have claimed the number one spot.