Alexis Sanchez 10 best goals for Barcelona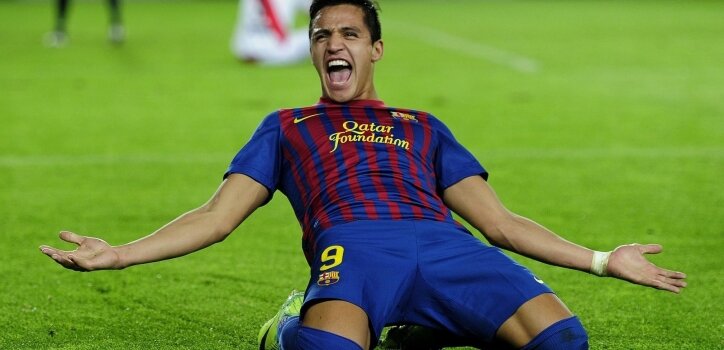 Sanchez is on the verge of joining Arsenal for £30,000,000 in a big summer swoop by the North Londoners. Here are 10 of Sanchez's best goals for Barcelona.
A brilliant Barcelona team goal ends with the ball falling to Sanchez from a tight angle on the right side of the box, he expertly hits the ball into the ground to chip the despairing keeper and drop into the corner of the net.
A wonderful first touch here gives Alexis the chance to add to his Barcelona tally. He brings the ball down, bursts through the defence and coolly slots the ball home.
8
Sanchez vs Real Madrid 11/12
This is a brilliant video captured from the crowd. Sanchez shows fantastic strength and balance to be able to smash the ball into the corner while being pushed to the ground.
Another imperious finish from Sanchez, he cuts inside the defender on the edge of the box and with ease and grace whips the ball into the opposite corner of the net to leave the keeper helpless.
More magnificent play from the Chilean here. He shows great composure and skill to cut inside the defender before impudently chipping the ball into the corner and in off the post.
Messi would have been the normal free kick taker. But here in the video above you can see a stunning hat trick that ends with a sublime free kick. Not much needs to be said other then sit back and enjoy 3 brilliant goals.
He shows here how well rounded he is as a player, in the sense that as well as dinky finishes and great pace he also has the ability to unleash a thunderous drive into the top corner from all of 20 yards.
More great feet here, linking a one two with Cesc Fabregas, chesting the ball down and jinking his way through the Espanyol defence with a finish to boot. Magisterial stuff from Sanchez.
Unleashing a powerful drive again. This came in the League decider which Athletico drew and ended up taking the title away from Barcelona. This goal was incredible again as he manages to find the top corner from an impossible angle.
1
Sanchez vs Real Madrid 13/14
Not bad scoring your best goal in the biggest game of the season. Real Madrid had been pushing for an equaliser in the game and on the break Sanchez scored a masterly chip to beat the 6'4 giant in Diego Lopez between the sticks.