10 most expensive transfers in British football history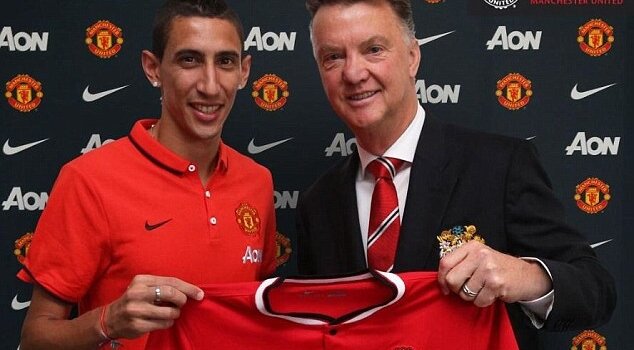 Manchester United made a huge statement of intent with the signing of Angel Di Maria, that smashed the British transfer record. After the embarrassment of a 4-0 defeat from League 1 minnows MK Dons, Louis Van Gaal will need more than the Argentinian to sort his team out. Here are the 10 most expensive transfers in British history.
10
Eliaquim Mangala – 32m VERDICT: TBC
The French centre back joined City at the beginning of the summer after impressing at Porto where he spent 3 seasons. The only worrying sign for Man City fans is he couldn't force his way into the France starting team for the World Cup with Raphael Varane and Laurent Koscielny preferred by Laurent Blanc.
With Martin Demichelis seemingly unconvincing last season, Mangala will be expected to start alongside Vincent Kompany in the near future. It is impossible to make a verdict as he only joined City this summer but the next few games will be a big test for the Frenchman with City travelling to Arsenal before meeting Chelsea at the Etihad.
9
Robinho - £32.5m VERDICT: 3/10
This became 1 of the most hyped transfers in Premier League history and City fans thought this was the perfect start to a new generation of star players arriving in Manchester. Robinho's career took a slide ever since he took Luis Figo's shirt at Real Madrid in 2005. His 1st season stats were his highpoint and at every club since he has struggled.
14 goals in 41 appearances was a poor return and he was shipped out on loan to his boyhood club of Santos where he refound some of the form that attracted Real Madrid in the 1st place. He was eventually sold to Milan at a price of £15m, less than half of the fee City forked out for him 3 seasons previously.
8
Fernandinho - £34m VERDICT: 7/10
Yaya Toure and Fernandinho formed an impressive partnership in City's title charge last season. Operating in a two man pivot, they combined attack and defence sufficiently and effectively. Manuel Pellegrini still seems keen to provide competition for places as fellow countryman Fernando was bought in from Porto to keep the pair on their toes.
7/10 could easily improve this season if he is to nail down the place and keep Fernando out of the team, but competition may show Fernandinho's faults and his 1st team place could be in danger. At the age of 29, he will be coming into his prime years for his position and he will be keen to add to his 5 league goals he managed for City last season.
7
Alexis Sanchez - £35m VERDICT: TBC
Arsenal's big money signing for the 2nd summer in a row. Arsenal were crying out for a star player this summer and Wenger moved quickly after Sanchez impressed at the World Cup for Chile. £35m for the 25 year old seems like a good piece of business, with Barcelona desperately seeking funds to get Luis Suarez on their books, meant players like Cesc Fabregas and Alexis Sanchez were available for transfer immediately.
Following the arrival of Mesut Ozil last summer, who has found it tough to adjust to the Premier League, Sanchez could provide the pace and running in behind to make the German blossom in his 2nd season in North London. When all fully fit, Theo Walcott, Ozil, Sanchez and Ramsey will be a deadly force, although there are still big question marks over whether Olivier Giroud has the quality to lead the line with such talent behind him.
6
Andy Carroll - £35m VERDICT: 3/10
Another much publicised transfer, Carroll moved to Liverpool under Kenny Dalglish alongside Stewart Downing and Jordan Henderson. Henderson has found his feet of late and Downing is finding some form at West Ham but Carroll has been plagued by injury and his goal scoring record is less than impressive. 6 league goals in 44 games for Liverpool were nowhere near what were expected with the transfer fee paid for his services.
Carroll is still struggling with his fitness and he joined West Ham permanently in May 2013 for around £15m. He started well at the Hammers but recently has really struggled with a string of bizarre injuries that have kept him out of action for long periods of the season. His last appearance was in February 2014 and Big Sam will be hoping for his return soon as his striking options are limited to say the least.
5
Juan Mata - £37.1m VERDICT: 7/10
Chelsea's player of the season in 2013 and a household name amongst most fans, Jose Mourinho's style of play did not suit the Spaniard and he spent a lot of time on the bench at the beginning of the 2013/14 season. His lack of tracking back and general work rate annoyed Mourinho and that is why he decided to sell the playmaker to a bitter rival.
7 goals in 9 starts has been a good return for Mata and in a Man United team that have struggled to find any consistency, but he has been a bright spark amongst the crisis. The arrival of Angel Di Maria will no doubt help Mata and it has been difficult for him to adjust as Wayne Rooney is preferred in the Number 10 role where Mata is most comfortable.
4
Sergio Aguero - £38m VERDICT: 9/10
Aguero managed to score after 23 seconds on Monday night against Liverpool and his influence for Man City is paramount for any future successes they hope to have. He's certainly lived up to billing and his expensive price tag and is 1 of the most feared strikers in the World. 54 league goals in 89 matches is a superb return and he always shows up in the big games with multiple goals against Chelsea and Liverpool.
He is famed for his last gasp winner against QPR on the final day of the season in 2012. Amongst the mayhem in the box he kept his cool to slot home and confirm City as Premier League champions for the 1st time in their history. He was hit with injury last season but he still scored 17 goals in 23 games. If he stays fit for a whole season who knows how many goals he could muster.
3
Mesut Ozil - £42.5m VERDICT: 6/10
The German is still yet to find his feet at Arsenal, but his quality has been evident in flashes of brilliance. Consistency and willingness have been the Germans downfall as he has appeared lazy and disinterested in a lot of big games for Arsenal. The arrival of Alexis Sanchez will help Ozil as well as the return of Theo Walcott from injury, who linked up very well with him before his injury last January.
He hasn't lived up to billing yet as he was hailed to be the start of a new era under Arsene Wenger and it came as a big surprise when the Frenchman splashed out the amount of cash that he did for the German. His stats still don't disappoint, he created the most chances of any player at the World Cup and also provided the most assists in the Arsenal team last season.
2
Fernando Torres - £50m VERDICT: 2/10
Ranked with the lowest score on the list and with good reason. The demise of a player who possessed incredible finishing and wonderful pace is almost unexplainable. With a record of over a goal every other game for Liverpool and his talents obvious for all to see, you can understand why Roman Abramovich decided to fork out the record transfer fee at the time for the Spaniard. Things started badly for Torres as he witnessed Chelsea lose at home to Liverpool on his debut.
It took Torres 3 months to open his account for Chelsea against West Ham in April 2011 and that was his only goal that season in 18 appearances. The nail in the coffin for Torres was his open goal miss against Manchester United at Old Trafford which he has never really recovered from.
He opened the scoring in that game and looked set to add to his tally before hitting it wide from 6 yards with the goal gaping. The highlight of his career was his goal in the 2-2 draw at the Nou Camp, the year Chelsea went on to lift the Champions League.
1
Angel Di Maria - £59.7m VERDICT: TBC
So the record has been smashed by nearly £10m by Manchester United and with good reason. The evening of this transfer being announced saw a youthful Man Utd team hammered 4-0 by lower league MK Dons and left Louis Van Gaal red in the face. Di Maria starred in the Champions League final so it is understandable that United were desperate to get pen to paper on his contract. He is a player who possesses immense skill and pace and he will add a lot to Manchester United.
Some fans suggest the signing is a bit like polishing a broken window, and the cracks in the united team still need serious addressing, especially in defence. Marcus Rojo has been bought in but there are still big holes in United's squad that need filling quickly. Few doubt that Di Maria will be a great success at United and he could provide the lift the squad needs after a torrid start to the season.