10 talking points from the weekend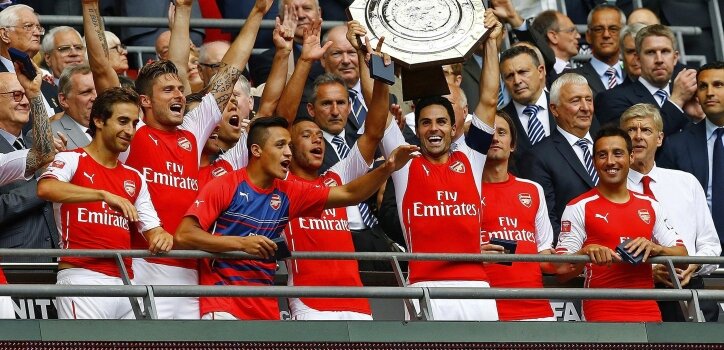 The Football League got underway this weekend as well as the Scottish league and the Community Shield was contested between Arsenal and City. Here are 10 talking points from the week
Certainly a name that people won't be familiar with. Oxley made his full debut for Hibernian in goal and in an incredible turn of events he managed to score a goal off a long punt up field. He launched the ball about 85 yards before the ball bounced and looped over the onrushing keeper, who had seriously misjudged the flight of the ball.
9
Chelsea 2-1 Ferencvaros
This match saw Chelsea come from a goal behind and net 2 fantastic goals. Zoltan Gera, formely of West Brom and Fulham gave Ferencvaros a shock lead. Chelsea came out with more purpose in the 2nd half and Ramires scored a sublime left foot volley. The ball was cleared to the edge of the box and the Brazilian flicked the ball up before striking it into the top corner. This was followed by a jinking solo run from new signing Cesc Fabregas, which will have delighted Jose Mourinho and the sceptical Chelsea fans.
Liverpool fans will be extremely encouraged with Liverpool's preseason exploits, which has seen new signing Emre Can blossom in all of their games. They ended their preparations with a fantastic 4-0 win over German giants Dortmund, who played a fairly strong line-up. What particularly impressed was Liverpool's quick one touch passing and they made the game look like a training exercise rather than a competitive friendly match.
Torres has endured a torrid preseason and it didn't get any easier last night when he miss controlled the ball out of play to what looked like a very unimpressed Jose Mourinho.
The 1st game of the French Ligue 1 season saw Monaco stunned by Lorient at the Stade Louis II. Lorient took an early lead, before second half substitute and star player Radamel Falcao scored a penalty, in what could be his last goal for the club with his pending move to Real Madrid looking set to be complete this week. It was clear to see Monaco lacked a creative spark that James Rodriguez had given them previously. Ricardo Carvalho also saw red for the French side.
5
Diego Maradona slapping a journalist
Diego was in Argentina in the car with his children when a journalist supposedly winked at his ex-wife, who is the mother to 1 of the children who was in the car. Maradona often known as a controversial figure took matters into his own hands, leaving the car and striking the journalist across the face.
4
The Championship is underway
The Football league has begun and not 1 of the 3 newly relegated sides could gain 3 points. Fulham lost at Ipswich, Wolves overcame Norwich and Blackburn played out a stalemate with Cardiff. Ipswich's win is probably the most impressive as Fulham have spent a lot of money and still possess a very strong squad. Wolves are newly promoted so they will also be very pleased with the start they made.
3
Samir Nasri retires from International duty
Nasri can't keep himself out of the tabloids at the moment, 1st he has a public spat before the World cup that ended his hopes of being included in the squad, this was followed by his girlfriend taking to social media to insult Didier Deschamps and now he has announced he will not play for France while Deschamps is in charge. Deschamps responded by saying 'Nasri should consider the woman's team'.
2
Zlatan's incredible game
A missed penalty, 2 goals and an incredible open goal miss from 6 yards. It could only be Zlatan.
All eyes were on Wembley for the first competitive match in English football for the season. Arsenal played well but Man City were absolutely dreadful and looked disinterested and surprisingly fatigued throughout the game. It means very little to the 2 sides to win the thing, although I think it meant more to Arsenal then it did to City to win it as they need to keep confidence high for the start of the season. Alexis Sanchez had a first start for Arsenal and Aaron Ramsey and Olivier Giroud both scored quality goals. Santi Cazorla scored the opening goal of the game.