Messi's top 10 goals 2013/14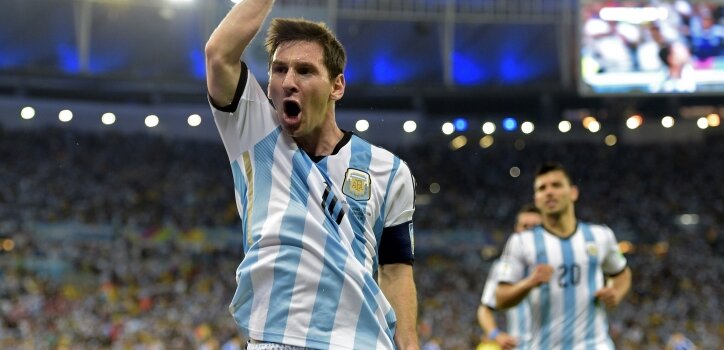 Messi set the World Cup alight last night with a brilliant solo goal against Bosnia to end is drought on the big stage. Here are 10 more of his strikes from last season.
Messi managed a hat trick in this game, but it was goal 1 that caught my eye. He latches onto a Fabregas through ball and shows great skill to flick it over the keeper and slot the ball home.
Lovely run and finish here from Messi, something that has become a formality by his standards, but if someone else scored a goal like this it would be lauded for weeks.
More deadeye finishing from the little Argentine as the ball comes to him on the edge of the box, he strikes it first time into the corner.
He does the initial hard work, again beating players over and over again, the free kick that follows is special. Whipping the ball over the wall and into the top corner.
The way Messi shifts the ball so quickly into the air before dispatching it into the top corner is unique. Only he can take so little time and be so accurate at finding the corner everytime.
A cheeky lob for Lionel. The timing of the run, pass and finish is sublime and something that has become a regular feature at the Camp Nou.
Superb quick feet and dribbling, questionable keeping but the quality of the run meant it had to be included in the list.
He shows fantastic strengh on the ball, being knocked off balance he keeps his composure to roll the ball into the corner of the net in a very important match.
This is another finish that Messi makes look so easy, when it is in fact a very difficult skill particularly as it is on his weaker side. Its a brilliant chip into the far corner and worthy of winning any match.
Classic Leo Messi. Incredible ball retention and fantastic pace as it seems the ball is stuck to his foot. He jinks his way through multiple challenges, rounds the keeper and slots home from a tight angle.