10 best saves for Man Utd in Premier League history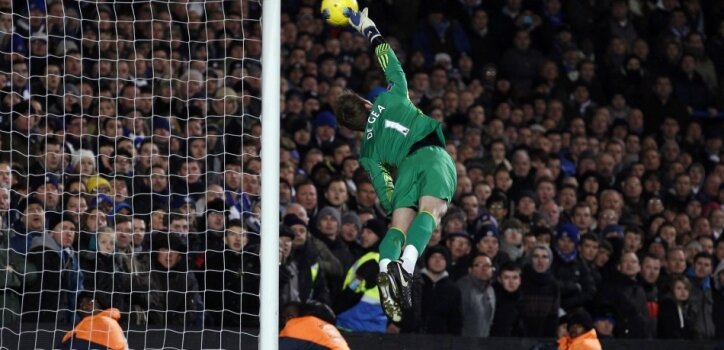 A top 10 round up of the greatest ever saves made by a Manchester United goalkeeper. This list is heavily populated by 3 goalkeepers, 2 of which can lay claim to be the best keeper United have ever had with the third hoping to be classed in that bracket in the years to come.
10
David De Gea vs Real Madrid, Bernadeu, 2013 (Champions League)
The first of De Gea's saves from this game in 2013. With United drawn away to Madrid in the first knockout stage of that years tournament all the focus was on Ronaldo and him playing against United for the first time since his £80 million move to the Bernabeu. Little was made of De Gea returning to Spain but he cemented his place as United's 1st choice keeper with a masterful display. A cross came in from the right and with Coentrao stretching at the far post to connect with the ball it looked as though it was going in until the reactions of De Gea meant that he got his foot up high and kept it out.
9
Peter Schmeichel vs Tottenham, Old Trafford, 1994 (Premier League)
The ultimate camera save. Plucking the ball out of the top corner after a shot from Steve Sedgley of Spurs Schmeichel was almost horizontal by the time he grabbed the ball with one hand. How he managed to get that high and stop the shot I will never know, but it has to go down as one of the greatest saves of all time, even if it is just for the famous picture the followed.
8
Edwin Van Der Sar vs Chelsea, Moscow, 2008 (Champions League Final)
Van der Sar, one of the only United keepers who could lay claim to Schmeichel's title as the best keeper we've ever had. He was unflappable and brought a calm to the back four that was missing since Schmeichel's departure. The first penalty save to make the list but the importance of it was immeasurable. After not being able to separate United and Chelsea over 120 minutes, the 2008 Moscow Champions League final went to penalties. With Ronaldo missing and John Terry missing the chance to secure the trophy for Chelsea it came down to sudden death. Ryan Giggs managed to put his away and the responsibility to keep Chelsea in it fell to Nicholas Anelka, up he stepped but Van de Sar dived to his right to keep it out, cue wild celebrations from the United players and fans.
7
Peter Schmeichel vs Arsenal, Villa Park, 1999 (FA Cup Semi-final Replay)
Whilst not the most outstanding save you will ever see, this has to be included for the sheer importance of the save. With United going for the treble it was important that all of Ferguson's big players stood up in the run in. United had gone 1-0 up early on with David Beckham curling a beauty from the edge of the box but Arsenal had equalised and were having the best of the game after Roy Keane had been sent off, there only looked like there was going to be one winner. Then, in stoppage time, Phil Neville upended Ray Parlour in the box and the ref pointed to the spot, every United fan had their head in their hands, the impossible dream was slipping away. Up stepped Bergkamp who oozed confidence but he was never going to beat the Great Dane. Schmeichel guessed right and diving away to his left palmed the ball out and it stayed at 1-1. Such a crucial save in a season of a lifetime, if it had gone in then we wouldn't have seen Ryan Giggs' wonder goal in extra time and the Treble would have been lost.
6
David De Gea vs Real Madrid, Bernadeu, 2013 (Champions League)
The second save to make the list from this game. With United under pressure in the first half Coentrao jumped on an error from Ferdinand and hit a curling right foot shot which looked as though it was heading into the bottom corner only for De Gea to dive full stretch to his left to get the faintest of fingertips on the ball to turn it onto the post. An unbelievable save given that he saw it late after it had come through a crowd of bodies.
5
Peter Schmeichel vs Inter Milan, San Siro, 1999 (Champions League)
'The Schmeichel star' as it was subsequently dubbed. Honed growing up in Denmark playing handball and on full display in the San Siro in 1999. United were up against it with Inter Milan flying and a deep ball was put into the United box straight onto Zamorano's head (the man with the 1+8 shirt as he wasn't granted the number 9 shirt) with Schmeichel scrambling to get across his goal he made himself as big as possible and got a hand to the ball to claw it away and keep United in the game. Another important save.
4
David De Gea vs Chelsea, Stamford Bridge, 2013 (Premier League)
De Gea came to Manchester as a relative unknown quantity, he was classed as lightweight and too young to become a regular for Manchester United. He also had the big challenge of replacing Van der Sar, a task which became notoriously difficult when Ferguson tried to replace Schmeichel. This initial assessment looked to be coming true but after a shaky start, De Gea has grown from strength to strength and has become a vital part of the United furniture. As athletic of a keeper as they come with this save proving that he will become one of the World's best. Approaching stoppage time in a pulsating game at Stamford Bridge, Juan Mata was lining up a free kick in the perfect position for a left footer. It couldn't have been closer to the top corner and was travelling at pace, it looked like it was flying straight in. That is until De Gea came flying across from the other side of his net and got a fingertip on it to tip it over the bar. An unbelievable save, at a vital time in the game.
3
David De Gea vs Sunderland, Stadium of Light, 2013 (Premier League)
United were struggling at 1-0 down against a Sunderland side buoyed by their new manager, Gus Poyet. United weren't playing well and going 2-0 down would have been almost game over, Sunderland had the chance to do just that and almost did aside from a brilliant save from De Gea. A cross game in from the left straight on the head of the Giaccherini, with De Gea moving the wrong way he had the reactions to quickly change direction and fling himself the other way to get a strong hand to it. Peter Schmeichel named it as one of the best saves he has ever seen, and who am I to argue with him!?
2
Peter Schmeichel vs Liverpool, Anfield, 1993 (Premier League)
United were playing away at Anfield in the 1992/93 season and Schmeichel pulled off one of the greatest saves the Premier League has ever seen. A corner came in and found a Liverpool player unmarked who had time to bring the ball down and hit a spinning left foot volley which was heading towards the bottom corner only for Schmeichel to fling himself down to his left and scoop the ball out with a strong hand. How he managed to keep it out is still a mystery.
1
Peter Schmeichel vs Rapid Vienna, Ernst Happel Stadium, 1996 (Champions League)
Back in 1996 United were playing in Europe on a freezing cold night in Austria against Rapid Vienna. The fans who made the trip over there were treated to one of the greatest saves of all time. During the first half with the game at 0-0 a cross came in from deep with the Rapid Vienna attacker meeting it full on with a powerful header. He did everything right by heading it downward and into the corner but somehow Schmeichel managed to get down extremely quickly and got a big hand to it to scoop it over the bar. It has to be seen to be believed, but it is as close to the Gordon Banks save that I have seen.