10 classic Mourinho quotes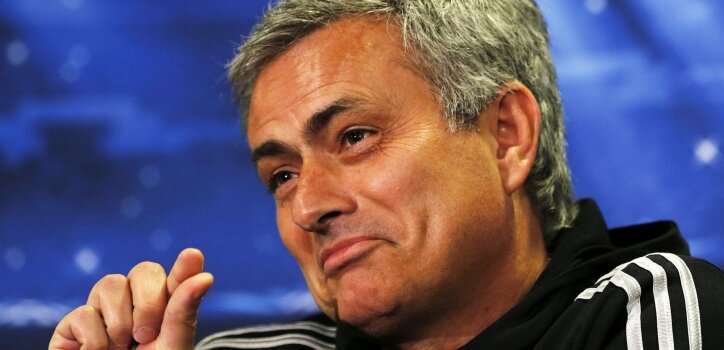 10
"I am Jose Mourinho and I don't change. I arrive with all my qualities and my defects."
At his unveiling as the new Real Madrid manager in 2010… Jose took a lot of flak from both fans and media during his time at Madrid, however you can't say he didn't warn them.
9
"After all that has happened this season – and that is a lot – I've reached the conclusion that I am a good loser."
After losing the title to Manchester United in the 06/07 season Jose decided to announce his own assessment of himself… Some may say inaccurately.
8
"Look, I'm a coach. I'm not Harry Potter. He is magical, but in reality there is no magic. Magic is fiction and football is real."
Jose's opening game as Real Madrid manager ends in disappointment with a goalless draw against Real Mallorca… I'm not so sure it requires magic to defeat Mallorca particularly when you've got Ronaldo and Benzema up front.
7
"Young players are a little bit like melons. Only when you open and taste the melon are you 100 per cent sure that the melon is good. Sometimes you have beautiful melons but they don't taste very good and some other melons are a bit ugly and when you open them, the taste is fantastic… One thing is youth football, one thing is professional football. The bridge is a difficult one to cross and they have to play with us and train with us for us to taste the melon...For example, Scott Sinclair, the way he played against Arsenal and Man United, we know the melon we have."
You can't go wrong with a fruit analogy, can you? In Scott Sinclair's case? Yes you can.
6
"Ricardo Carvalho seems to have problems understanding things, maybe he should have an IQ test, or go to a mental hospital or something"
Mourinho has got a habit of laying into his best players as seen by his assessment of Hazard after being knocked out of the Champions League. This outburst came after Carvalho spoke out after not being selected
5
"I saw their players and manager go for a lap of honour after losing to us in their last home game. In Portugal if you do this, they throw bottles at you."
Mourinho delivers a harsh assessment on the way things are done over at Old Trafford.
4
"Makelele is not a football player, Makelele is a slave"
I'm paraphrasing of course! Mourinho was giving his view on the French Football Federations selection policy, although it might have been wise to choose a more diplomatic approach.
3
"I am no longer Chelsea coach and I do not have to defend them any more, so I think it is correct if I say Drogba is a diver."
Anyone would think Jose and Didier were father and son the way they embrace and praise each others excellence. But Mou didn't wait long after leaving Chelsea to deliver a telling truth about their most prolific marksman.
2
"If I wanted to have an easy job… I would have stayed at Porto – beautiful blue chair, the Uefa Champions League trophy, God, and after God, me
Humility is not a word anyone would associate with Jose Mourinho… And here is just another reason why.
1
"Please don't call me arrogant, but I'm European champion and I think I'm a special one.
And what kind of list would this be without the iconic Special One quote. Here's to you Jose and your magnificent ego.