10 oldest players to have scored in the Premier League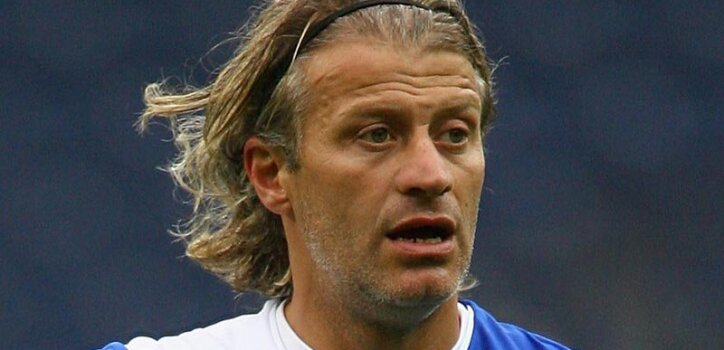 10
Teddy Sheringham (West Ham) 40 years and 268 days - 2006
Teddy Sheringham made Premier League history when he scored a late consolation for West Ham in a 2-1 defeat by his former side Portsmouth on Boxing Day 2006
9
Ryan Giggs (Man Utd) 39 years and 86 days - 2013
As at 9th January 2014, Ryan Giggs last Premiership goal was in February 2013 with Man Utd winning 2-0 against QPR. He has scored since in Champion League, FA Cup and League Cup. But he is yet to score in his 40's in the Premiership
8
Stuart Pearce (West Ham) 38 years and 215 days - 2000
The former England defender scored the second goal as West Ham defeated Southampton in a thrilling 3-2 victory at the Dell.
7
4) Mark Hughes (Blackburn Rovers) 38 years and 149 days - 2002
Despite being player/manager of Wales, Hughes scored his final career goal for Blackburn in a 2-1 defeat to Leicester City.
6
5) Kerimonglu Tugay (Blackburn Rovers) 38 years and 98 days - 2008
Having spent eight seasons at Blackburn, fans favourite Tugay final goal for Rovers was a spectacular strike against Portsmouth in November 2008.
5
6) Graham Alexander (Burnley) 38 years and 67 days - 2009
Graham Alexander was Burnley's spot kick king with five league goals and the last against Arsenal in a 1-1 draw at Turf Moor.
4
Mick Harford (Wimbledon) 38 years and 34 days - 1997
At his 11th club the well travelled striker scored his final Premier League goal for the Crazy Gang in a 1-1 draw against West Ham in 1997.
3
Gary Speed (Bolton) 37 351 Days - 2007
The midfielder scored his final Premier League goal at the Reebok Stadium in a 3-0 victory against Reading in August 2007.
2
Peter Schmeichel (Aston Villa) 37 years and 336 days - 2001
Most famous for his time at Manchester United, Schmeichel became the first goalkeeper to score a Premier League goal while playing for Aston Villa in a 3-2 defeat to Everton in October 2001.
1
Les Ferdinand (Bolton) 37 years and 268 days - 2004
Les Scored his final Premier League goal in the 90th minute against Manchester United in 2004 in a 2-2 draw.
Kevin Phillips left Crystal Palace on 31st December 2013 and is currently looking for a new club. He is now 40 and currently just outside the Top 10 with his last Premiership goal for Birmingham aged 37 years and 251 days in 2011.