10 classic Premier League comebacks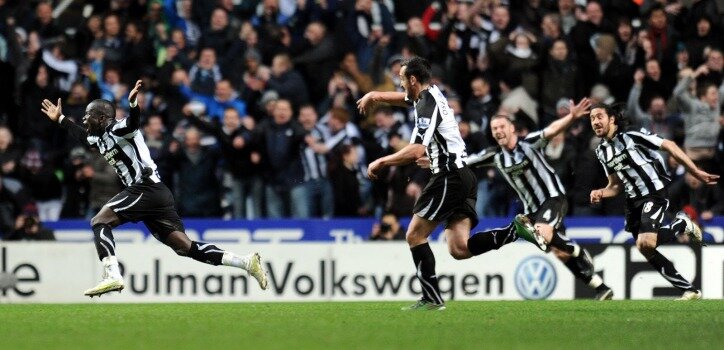 In the wake of Leicester's incredible 5-3 victory over Man Utd, having been 3-1 down after 60 minutes, here are 10 more classic comebacks from the Premier League era.
10
Norwich 4-4 Middlesbrough
Norwich took an early lead in this game only for Middlesbrough to take complete control and run into a 4-1 lead after 78 minutes. Dean Ashton scored what appeared to be a consolation on 80 minutes but what followed in the final 10 minutes was madness.
Leon Mckenzie headed home on the stroke of normal time and then 3 minutes into the allotted added time club captain Adam Drury scored an unlikely equaliser, heading home from a Darren Huckerby corner. The result saved his side from a fourth successive defeat at the time.
9
Tottenham 4-4 Aston Villa
Aston Villa couldn't believe their luck when they raced into a 4-1 advantage at White Hart Lane, having gone into the game as the outsiders. Tottenham showed fantastic fighting spirit to complete a 30 minute 3 goal comeback with goals from Pascal Chimbonda, Robbie Keane and centre back Younes Kaboul completing the comeback for Spurs.
The Reebok stadium was somewhat of a bogey ground for Arsene Wenger when Bolton were in the Premier League and when they trailed 2-0 and Abou Diaby received a red card for a reckless challenge on Gretar Steinsson, Wenger must have thought the curse was set to continue.
Like many of the other comebacks, it was completed in just under 30 minutes with the winner coming in the 93rd minute when Cesc Fabregas's tame shot was deflected into his own net by J'Lloyd Samuel. Poor defending could be flagged, but to come back with 10 men is always an impressive feat.
North London derbies are always high scoring occasions and this Monday night fixture at the Emirates certainly lived up to billing. David Bentley stunned his former club with a sublime 40 yard lobbed volley that caught out Manuel Almunia. Arsenal came roaring back and opened up a 4-2 lead with 20 minutes to play and the game looked beyond Spurs.
The fightback from Tottenham was superb and Harry Redknapp's side dug deep to score in the 89 minute followed by a dramatic equaliser from Aaron Lennon two minutes into stoppage time. You could make a Top 10 purely of Arsenal vs Tottenham matches as they are always filled with drama and most importantly goals.
Leicester on the receiving end of a comeback here! Going into the game both sides needed to win this game and it was billed as a good old fashioned '6 pointer'. Often cagey affairs, this game went against that notion and Leicester stormed into a 3-0 lead which they held until half time.
The 2nd half was complete domination by Wolves and it started on the 52nd minute. Cameron netted in the 52nd minute before adding a penalty in the 60th minute. Rae levelled the scores with 25 minutes to play and Henri Camara completed the grand stand finish with a 90th minute winner.
Another North London derby that advertised everything great about the Premier League. Tottenham took a 2-0 advantage early in the game with goals from Louis Saha and Emmanuel Adebayor. Arsenal eventually woke up and went onto to destroy Tottenham, netting 5 times in 30 minutes.
A comeback that makes the list more for its importance rather than mass of goals. This game went down as 1 of the most famous in Premier League history and had the whole country on the edge of its seat. Manchester United had wrapped up a 1-0 away win at Sunderland with the knowledge that Man City were 2-1 down at home to QPR, who were playing this game in the knowledge that safety had already been secured.
Goals from Jamie Mackie and Djibril Cissé gave QPR a shock lead and they were leading 2-1 right upto the 90th minute. When all seemed lost, David Silva swung in a late corner that Edin Dzeko got on the end of to set up the ultimate grand stand finish. In the dying embers of the game Mario Balotelli made space in the box before slipping in Sergio Aguero, he kept his cool and slotted home causing scenes of complete pandemonium in the stands to give City their 1st ever Premier League crown.
As comebacks go, Liverpool's turnaround of a 3 goal deficit in 1994 is right up there with the best. Stunning goals from Ryan Giggs and Dennis Irwin put United in the ascendancy, racing into a 3-0 lead with 24 minutes played. But a minute later Brian Clough smashed home a superb 30 yard pile driver into the bottom corner and gave Liverpool a small glimmer of hope.
Clough added another on 38 minutes and hope began to grow at Anfield that the famous comeback could be complete. Man Utd had chances in the 2nd half to kill the game with Ryan Giggs looking particularly dangerous for the Red Devils. Peter Schmeichel kept United in front with a string of fine saves, even gaining praise from his opposite man. Neil Ruddock got the better of the Great Dane in the 79th minute with a point blank header, to complete 1 of the finest comebacks in English football.
Tottenham's 4th appearance on this list. Man Utd became famous under Fergie to turn the screw when the game seemed beyond them and building pressure at crucial periods in the game. Even when teams took 2/3 goal leads in games, most still expected United to come charging back. This game was a perfect example of that. Even though Tottenham went in 3-0 to the good at half time, I doubt many of their fans were confident that they would win the match.
United produced a masterclass in the second half, Andy Cole and Laurent Blanc got United moving quickly in the 2nd half, closing the gap to 1 goal. Fergy made important tactical decisions at half time Mikael Silvestre came on to inject pace down the left side, in place of Denis Irwin, and Ole Gunnar Solskjaer replaced Butt as United played with three up front. Van Nistelrooy scored the equaliser with yet another headed goal before Scholes and Solksjaer combined to play in Veron, who shot left-footed past Sullivan. The icing on the cake for United was David Beckham's trademark strike to wrap up the incredible comeback.
Coming in the 24th game of the Premier League season, Arsenal were vying with Man Utd for the title while Newcastle were attempting to consolidate a mid-table position. Arsenal produced an attacking master class in the opening 26 minutes, with Newcastle's defence all over the place, Robin Van Persie, Theo Walcott and Johan Djourou put Arsenal in the driving seat and the game seemed all but over at this stage.
The 2nd half started largely uneventfully, but when Joey Barton went in hard on Abou Diaby, the Frenchman lost his head, grabbing Barton by the neck and receiving a red card for his actions. This sparked Newcastle into life, Joey Barton scoring 2 penalties either side of a Leon Best goal, with the 1st coming in the 68th minute. The panic within Arsenals defence was clear now and Newcastle could sense an equaliser. The quality of the goal was sublime, Cheick Tiote, not known for his goal scoring ability, unleashed a 25 yard left foot volley that flew into the bottom corner of the net, leaving Wojciech Szczesny completely helpless.