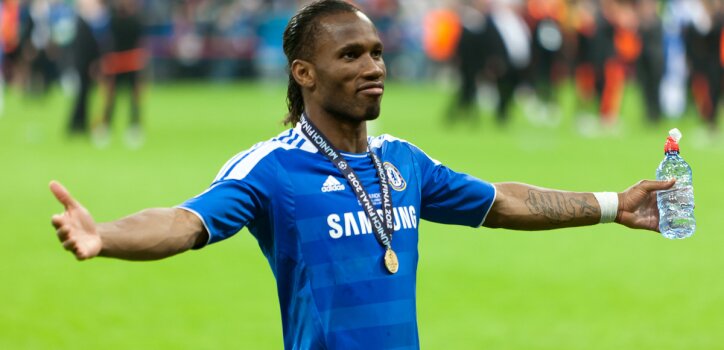 10 of Didier Drogbas best strikes. He was known as a big game player and quite a few in this list came at very important times for his club.
Known for his strengh and power, Drogba showed a different side to his game playing for Gala against Real Madrid with a very cheeky backheel into the bottom corner.
This was the 0-3 demolition of Arsenal at the Emirates in 2009. Drogba scored the first and the third goals in the game and both could easily be included in the list. A wonderful side foot volley first, followed by a powerful and dipping free kick.
An opening day draw at home to Hull in the early part of the season would have been seen as 2 points dropped for Chelsea. Up step Didier Drogba, played in behind the defence he ran towards the byline before brilliantly lifting the ball into the opposite corner giving the keeper no chance.
Goal number 3 in the video above. The ball was played into Didier's feet at pace and he quickly shifted the ball into a shooting position before slamming it into the top corner. A goal of great importance again for the Ivorian.
FA cup final 2007. Drogba scored in every game he played at Wembley which is an incredible stat. Here he ends a superb Chelsea move, linking up with Lampard for a one two before athletically flicking the ball past the onrushing Van Der Sar
Similar to the Barcelona goal, it is again played into Drogba with his back to goal and he chests the ball down and brilliantly half volleys it in with his wrong foot. A superb goal
This goal epitomises Dider Drogba. Brutal strengh and power.
Another game at Wembley another goal for Didier. This one came in the FA cup semi final vs Tottenham. Where he flicked the ball past William Gallas before smashing the ball on the volley with his wrong foot. Chelsea went onto win this semi final 5-1.
With the game on a knife edge, in another must win game for Chelsea. Who steps up? Drogba of course. Cudicini launched the ball upfield, a flick on header presented Drogba with a chance who chested it down before volleying it into the net.
This had to be number 1 and i'm sure most Chelsea fans would agree that this was Drogbas finest moment in a Chelsea shirt. Like a lot of goals in the list this strike came in the last 5 minutes of the Champions League final with Chelsea trailing Bayern Munich 1-0. It was a fantastic header and Chelsea went onto lift their first Champions League in their history.