10 classic Premier League own goals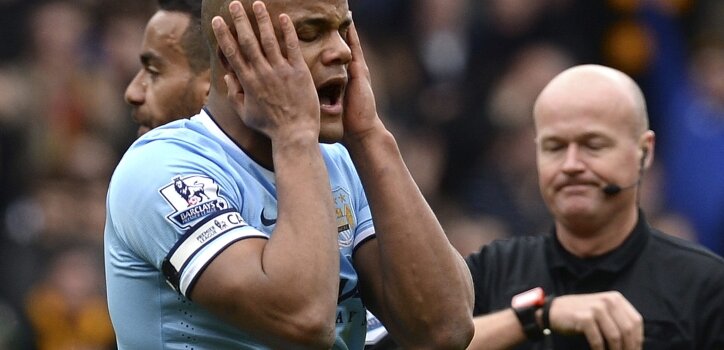 Here are 10 classic own goals from English football. Number 1 isn't in fact from the Premier League but the rest of the list is. Sit back and enjoy some comical own goals.
10
Stephen Warnock- Aston Villa vs QPR
2-cap England wonder Stephen Warnock shows us what we were missing at the World Cup with a perfectly timed, stooping header into the bottom corner past Shay Given.
9
Djimi Traore- Burnley vs Liverpool
The big man does all he can to keep the fans pleased by playing up to his chant, "Don't blame it on Biscan, don't blame it on Finann, don't blame it on Hamann, blame it on Traore. He just can't, he just can't, he just can't control his feet…"
8
Tony Popovic- Portsmouth vs Crystal Palace
Lumbering Tony Popovic shows he doesn't know his arse from his elbow, and in the process scoring one of the Premier League's best ever own goals against a quality Portsmouth side boasting Shaka Hislop, Nigel Quashie and the Yak, to name but a few.
7
Gareth Barry- Southampton vs Manchester City
It's fair to say that Gareth Barry divides opinion amongst England fans. But no one can argue that here, Baz shows a wonderful attacking instinct by picking out the bottom corner past the wonderfully groomed Joe Hart.
6
Lee Dixon- Arsenal vs Coventry
ITV's second-most favourite gobshite Lee Dixon here shows perfect vision to lift the ball over big Dave Seamen in the first few minutes of a 1-2 loss to Coventry.
5
Lauren- Manchester City vs Arsenal
Famed for his faultless penalty taking and forceful defending, here the ice cool invincible controls the ball and shrugs off his attacker before slotting home a perfectly timed left footed shot past the hapless Jens Lehman.
4
Peter Peter Enckelman - Birmingham City vs Aston Villa
Enckelman's embarrassment at his howler is softened by the kind fan who runs on the pitch and shows him the best way to brush his teeth. He may have looked like a tit in this Second City Derby, but at least Enkleman has the last laugh through a perfect set of gnashers.
3
Kompany- Fulham vs Manchester City
Strong, agile and a wonderful leader, Kompany here shows everyone his softer side, kindly gifting lowly Fulham a precious goal against the eventual champions. What a finish, and one that's sure to see Joe Hart tearing his beautiful dandruff-free hair out.
2
Jamie Pollock- Manchester City vs QPR
Back in the days when the noisy neighbours were more Nono than Yaya, Jamie Pollock (nope, me neither) does his best impersonation of Gazza in '96 with a wonderfully instinctive flick over the attacker, before planting a bullet of a header past his own goalkeeper.
1
Chris Brass- Darlington vs Bury
Writing anything about this goal seems strangely wrong. As I tell my girlfriend bi-weekly, relax and enjoy the best six seconds you'll have all day.